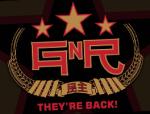 Santa Monica, Californie - 22 octobre 2008 - Chinese Democracy est enfin là. Un des albums les plus attendus de l'histoire du rock : Chinese Democracy, est le premier album de chansons originales de Guns N' Roses depuis la sortie simultanée de Use Your Illusion I et Use Your Illusion II en 1991. Guns N' Roses est arrivé sur la scène musicale au milieu des années '80 avec une énergie frénétique et a changé la face du rock à jamais. Les très influents GN'R sont aujourd'hui prêts à tout chambouler de nouveau.
Chinese Democracy (Black Frog/ Geffen Records) sera disponible sur toute la planète le 23 novembre au format CD et vinyl (accompagné d'un téléchargement gratuit des morceaux), ainsi qu'en téléchargement légal chez Best Buy et sur BestBuy.com.
Produit par Axl Rose et Caram Costanzo, Chinese Democracy comprend 14 morceaux. La chanson-titre et premier single de l'album : Chinese Democracy, sera lancée à la radio à 5h du matin, heure de New York aujourd'hui. Deux enregistrements sont récemment sortis - Shackler's Revenge le 14 septembre dans le jeu vidéo Rock Band 2, et If The World le 11 octobre dans le film Body of Lies [Mensonges d'Etat].
"La sortie de Chinese Democracy est un moment historique dans l'histoire du rock", ont déclaré Irving Azoff et Andy Gould, co-managers de Guns N' Roses, "et nous lançons actuellement une campagne de promotion monumentale en phase avec le son innovant de l'album lui-même. Les fans de Guns N' Roses ont toutes les raisons de célébrer ce moment, car ce n'est que le commencement".
"Guns N' Roses a red√©fini le groupe de rock am√©ricain et est devenu une ic√īne musicale internationale", a ajout√© Steve Berman, Directeur Marketing chez Interscope Geffen A&M Records. "Nous sommes incroyablement excit√©s √† l'id√©e que Chinese Democracy soit entendu sur toute la plan√®te gr√Ęce √† Geffen Records et Universal Music Group."
Il y a 17 ans, les deux précédents albums originaux d'un des groupes de rock les plus intenses et incontestés : Use Your Illusion I et Use Your Illusion II, étaient commercialisés simultanément, une première pour un artiste contemporain. Entrant dans les charts respectivement à la 2nde et 1ère place, ils comprenaient 3 hits incontournables : November Rain (3ème des charts), Don?t Cry (10ème) ainsi que You Could Be Mine du film Terminator 2: Judgement Day, entré au Top 30, plus un autre hit du Top 40 : Live And Let Die. Chaque album a été certifié platine 7 fois.
Le premier album du groupe sorti en 1987 : Appetite For Destruction, a été vendu à plus de 28 millions d'exemplaires dans le monde (certifié 18 fois platine aux USA) et fait partie des albums les plus vendus de la planète. L'album, qui a atteint la 1ère place des charts, comprenait également trois hits classés au Top 10 : Welcome To The Jungle, Sweet Child O' Mine et Paradise City. Classé numéro 2 des charts et sorti en 1988, GN'R Lies a été certifié platine 5 fois et le tube Patience a atteint le Top 5 des charts. Suite au doublé de Use Your Illusion, l'album de reprises "The Spaghetti Incident?" a quant à lui été classé 4ème des charts et a été certifié platine.
En 1999, un album live a été certifié or; puis en 2004, le seul Greatest Hits du groupe s'est hissé à la 3ème place des classements et a été certifié platine 4 fois. Le groupe Guns N' Roses a vendu en tout plus de 90 millions d'albums dans le monde.
Source :
http://www.geffen.com/
. Traduit de l'anglais par Will Bailey.