Reportages sur
Guns N' Roses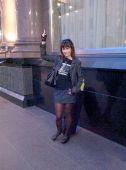 Olga (a/k/a Olya) is a Russian Guns N' Roses fan who lives in Moscow. She already saw the band live in Russia in 2010 and she also attended the GN'R concerts in Moscow on May 11 and 12, 2012. Her dream was to meet Axl Rose, the band's leader. This time around she wanted to fulfill her dream so she stayed in front of Axl's hotel in Moscow with some Russian fans until she could meet the singer.

After waiting in front of Axl Rose' hotel in Moscow for several days, Olya finally managed to fulfill her dream and meet Guns N' Roses' leader. She recently contacted us and we're publishing today her story and the pics from her meeting with Axl.

Olya tells us she "started to wait from May 13 (N.B.: the next day after GN'R concerts in the Russian capital). Axl hurt his leg in Moscow after he fell from a table in a strip club. Maybe that's why he stayed in Russia until May 17", reckons the Russian fan.

"We stayed near the hotel about 8 hours per day...but we didn't know when he was actually at his hotel, and the band had already left. We tried asking security and hotel's personel but the information we got wasn't always true. We ended up meeting Vanessa and Beta (N.B.: Axl's personal assistants), but we didn't get more info. We waited for a few more days. We endured the cold, the heat, the rain..." remembers Olga.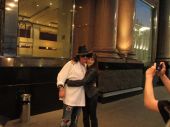 "Then in the evening of May 16, around 11PM, we saw him for the first time. Some fans ran up to him and security looked at us like we were crazy (but Axl didn't). We started asking for autographs and pics. I managed to tell Axl: 'I've been waiting for this moment for 20 years'. Then I asked him if I could hug him, we hugged for a while and I asked him if I could kiss him and he showed his cheek. I kissed him on the cheek and then he went back to his car, because he had to go to the hospital...We waited for him again for another 6 hours", Olga tells us.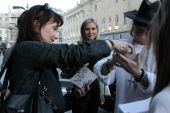 "Beta (Axl's assistant) came back first, according to Olya. She was a bit angry at Axl, says the Russian fan. She looked at her watch and was like: 'Where is Axl? He promised!'. Some fans from our group started talking to Beta and asked questions about Slash, Steven Adler, Stephanie Seymour, etc. I gave her a gift and she thanked me. Beta is very sweet, she talked to us for about 20 minutes. A little while later, we ordered something to eat, remembers Olya... Late in the evening, I saw a car park near the hotel and I said: 'That's Axl!'. We ran up to him. When he turned toward us, Axl recognized me. He was like: 'I remember you, Olga right?', I said: 'Yes I'm Olga!', then I hugged him again. I was so happy that he remembered my name, that was the best moment of my life!", remembers Olga while smiling.

The Russian fan wonders: "I don't know how I could mix up my words when I first talked to Axl, but at least he recognized me anyway! I also got it wrong on my t-shirt: I wrote 'cose' instead of 'because' : 'I want to see you because you're Axl Rose'. He looked at it wondering what it meant then he smiled and signed it for me. I realize I was very lucky. That day: May 16 is a blessed day for me now! I can finally say I fulfilled my dream", says Olga in closing.

We thank Olya for telling us about her meeting with Axl Rose (spasibo bolshoe!), and we hope other GN'R fans will be able to meet the band's leader.

> Pictures gallery of the meeting between Olya and Axl Rose
> Version française de la rencontre entre Olya et Axl Rose


Thanks to Olga a/k/a Olya for her story and pics (spasibo!). Translated from Russian by Olya. Story written by Will for GNRFrance.net. Please do not use without permission. Olya is Will's and GN'R France's friend.