Tournée 2011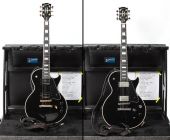 Gibson Les Paul

This duo of Black Les Paul Standards both have the pickup selector switch moved down into the normal control set, with the original pickup selector switch plugged, and a kill switch installed in place of another of the guitar's knobs.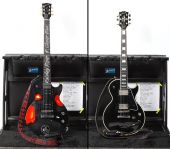 Les Paul Baritone and Les Paul

Fortus' Les Paul Baritone features custom artwork and the names of his daughters, Paisley Piper and Clover Blue, inlayed on the fretboard. Both guitars also feature the pickup selector/kill switch mod.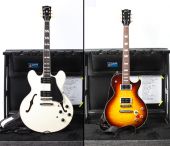 Gibson ES-335 and Gibson Les Paul

Fortus' Les Paul has a kill switch added at the controls, rather than replacing a knob, and the pickup selector has been moved down.
James Trussart Steelcaster and ES-135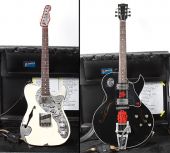 Fortus' ES-135 features custom artwork, a Bigsby, and like his other guitars, a relocated pickup selector switch.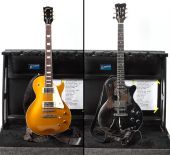 Gibson Les Paul Standard Goldtop and James Trussart SteelDeville

This Les Paul has a kill switch added to the controls in addition to the relocated pickup selector switch, while the SteelDeville only has the relocated selector switch.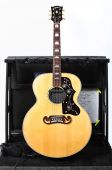 Gibson J-200

Fortus uses this jumbo for acoustic songs.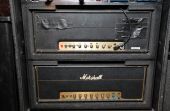 Modified Marshalls

Fortus uses a duo of Marshall Super Lead 100s that are modified by Voodoo Amps.


Rack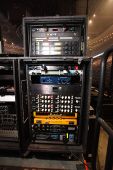 Fortus' rack uses a Furman Power Conditioner, Dunlop Cry Baby Rackmount Wah, RJM Effects Gizmo, Egnater M4 Modular Preamps, and a Marshall EL34 100/100 (with Voodoo Amps' Platinum Mod).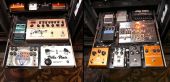 Effects
The pedal drawers in Fortus' rack are packed. Left: DOD FX25 Envelope Filter, Yamaha AG Stomp acoustic guitar preamp modeler, Pigtronix Echolution, and Prescription Electronics Vibe-Unit. Right: Boss FZ-2 Hyper Fuzz, Ibanez CF-7 Chorus/Flanger, Voodoo Lab Pedal Power 2 Plus, Arion Stereo Chorus, Electro-Harmonix H.O.G., Strymon OB1 Booster, Xotic Effects RC Booster, Lovepedal Eternity Overdrive, and Emma Electronics Discombobulator. Not pictured are a duo of Hiwatt Custom Tape Echo units and two TC Electronic G Major II units.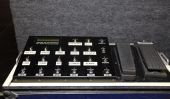 Floor Controller

On the floor, Fortus has an Axess Electronics FX1 MIDI controller and wah and expression pedals for controlling his effects. Fortus' tech does most of the switching on his own FX1 controller.