Lun. 12/09/2016 à 12:13
12/09/2016 12:13, rédigé par GN'R France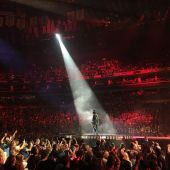 AXL/DC se rapproche doucement de la côte est avec un concert donné hier à Buffalo dans l'Etat de New york.
La setlist reste inchangée mais la voix d'AXL est toujours au top !

Setlist du concert d'AC/DC avec Axl Rose à Buffalo, NY (11/09/2016) :
Rock Or Bust
Hell Ain't A Bad Place To Be
Got Some Rock N' Roll Thunder
Rock N' Roll Damnation
Thunderstruck
High Voltage
Rock N' Roll Train
Hells Bells
Given The Dog A Bone
If You Want Blood (You've Got It)
Live Wire
Sin City
You Shook Me All Night Long
Shot Down In Flames
Whole Lotta Rosie
Let There Be Rock
- Rappel -
Highway To Hell
Riff Raff
For Those About To Rock (We Salute You)
> Plus de photos du concert d'AC/DC à Buffalo

Prochain concert à New York City au Madison Square Garden dans 2 jours.

Le guitariste Richard Fortus profite de la parenthèse AXL/DC pour jammer à nouveau avec son ancien groupe THE DEAD DAISIES à New York il y a quelques jours.