Mer. 16/11/2016 à 07:04
16/11/2016 07:04, rédigé par S2B
Les concerts des Guns à Rio De Janeiro sont souvent un événement majeur à la fois pour les fans et pour le groupe de par le passif qu'il y a avec cette ville en particulier (remember Rock In Rio '91, la première fois où les Guns se sont produits au Brésil alors que l'album Use Your Illusion n'était même pas encore sorti !).
Ce n'est pas au Maracana mais au Estadio Nilton Santos-Engenhao d'une capacité de 45 000 personnes dans lequel s'est produit le groupe hier.
Petit ajout dans la setlist : "yesterdays" !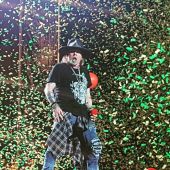 Setlist du concert de GN'R à Rio De Janeiro, Brésil (15/11/2016) :
It's So Easy
Mr. Brownstone
Chinese Democracy
Welcome to the Jungle
Double Talkin' Jive
Better
Estranged
Live And Let Die
Rocket Queen
Out Ta Get me
You Could Be Mine
You Can't Put Your Arms Around A Memory (intro)
Attitude
This I Love
Civil War
Coma
Theme From The Godfather (Slash guitar solo)
Sweet Child O' Mine
Yesterdays
Wish You Were Here (guitar solo) / Layla (intro)
November Rain
Knockin' On Heaven's Door
Nightrain
- Rappel -

Don't Cry
The Seeker (The Who)
Paradise City
> Plus de photos du concert des Guns à Rio de Janeiro

Prochain concert demain soir à Curitiba.