Mar. 16/08/2016 à 09:00
16/08/2016 09:00, rédigé par S2B
C'est sous la canicule de la ville de Glendale, sobrement baptisée "Paradise City" par le maire de la ville pour l'occasion que les Guns se sont produits hier.
En effet, le thermomètre affichait 42°C durant le soundcheck dans l'après midi !

Ce sont les groupes Tyler Bryant & The Shakedown et Zakk Wylde qui ont ouvert pour les Guns sur cette date.
Pas de grand changement dans la setlist si ce n'est "Better" joué plus tôt.
Pas de jam avec Zakk Wylde non plus !

Setlist du concert de Guns N' Roses à Glendale (15/08/2016) :
It's So Easy
Mr. Brownstone
Chinese Democracy
Double Talkin' Jive
Estranged
Live and Let Die
Rocket Queen
You Could Be Mine
New Rose (Duff on vocals)
This I Love
Civil War
Coma
Theme From The Godfather (Slash guitar solo)
Out Ta Get Me
Band jam (Wish You Were Here)
November Rain
Knockin' on Heaven's Door
Nightrain
- Rappel -
Catcher in the Rye
The Seeker (The Who)
Paradise City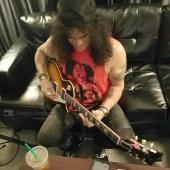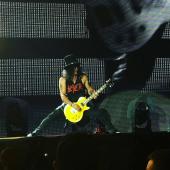 > Plus de photos du concert de Guns n' Roses à Glendale

Prochain concert à Los Angeles dans 2 jours.