Mer. 10/08/2016 à 09:09
10/08/2016 09:09, rédigé par S2B
Après quelques jours de repos, les Guns continuent leur tournée Not In This Lifetime à San Francisco au stade AT&T devant 80 000 personnes.
Les derniers concerts de la tournée prennent des allures de colonies de vacances puisque les musiciens du groupe sont souvent rejoints par leur famille (femmes et enfants de Slash et Duff par exemple).

C'est le groupe The Struts qui a ouvert sur cette date.
La setlist est sans grande surprise: pas de Catcher in The Rye ou de Sorry.

Setlist du concert de Guns N' Roses à San Francisco, CA (09/08/2016) :
It's So Easy
Chinese Democracy
Estranged
You Can't Put Your Arms Around a Memory/ Attitude (Duff on vocals)
This I Love
Coma
Theme From The Godfather (Slash guitar solo)
Better
Out Ta Get Me
Band jam (Wish You Were Here/ Layla)
November Rain
Knockin' On Heaven's Door
Nightrain
- Rappel -
The Seeker (The Who)
Paradise City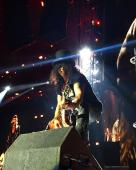 > Plus de photos du concert de Guns N' Roses à San Francisco

Prochain concert à Seattle dans 2 jours.