Jeu. 30/09/2021 à 05:27
30/09/2021 05:27, rédigé par GN'R France
Le groupe arrive quasiment au bout de sa tournée américaine, un véritable exploit comparé aux autres gros groupes qui sont souvent obligés d'annuler à cause de cas de COVID au sein des équipes techniques.

Heureusement, les Guns ont pu donné leur concert hier à Raleigh en Caroline du Nord, avant dernière ville avant de rallier la Floride.

Le groupe s'est produit devant environ 19 000 personnes, toujours avec Mammoth WVH en support.
Juste avant d'arriver à Raleigh, le tour bus d'Axl a fait un stop à Washington DC devant le Lincoln Memorial.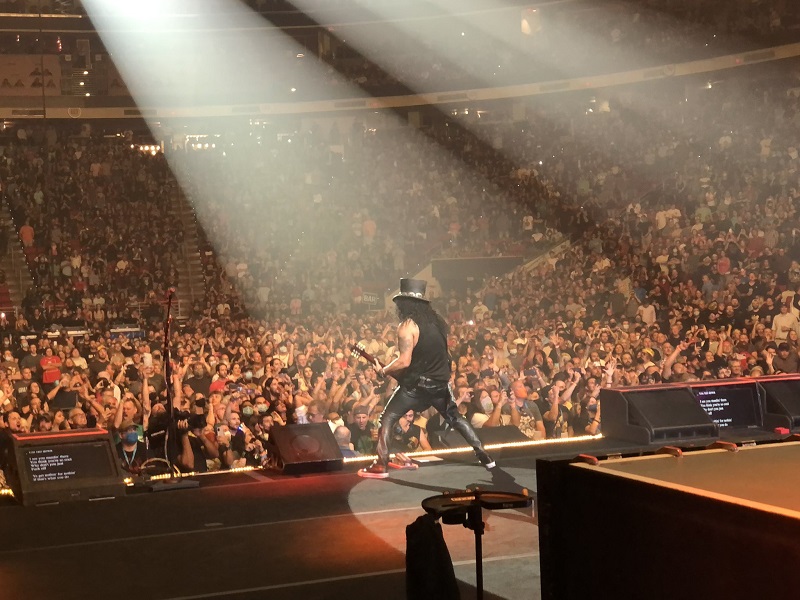 Setlist du concert de Guns N' Roses à Raleigh, NC- USA (29/09/2021) :
Chinese Democracy
Slither (Velvet Revolver)
Double Talkin' Jive
Rumble (Link Wray, intro)
Welcome To The Jungle
Better
Estranged
You're Crazy (slow version)
Rocket Queen
You Could Be Mine
I Wanna Be Your Dog (The Stooges, Duff on vocals)
Absurd
Hard Skool
Coma
Civil War (Machine Gun intro)
Slash guitar solo (Muddy Waters, blues jam)
Sweet Child O' Mine
Wichita Lineman (Glen Campbell)
Patience
Catcher In The Rhye (Premiere de la tournée)
Sorry
Knockin' On Heaven's Door (Only Women Bleed intro)
Nightrain
- Rappel -
Madagascar
The Seeker (The Who Cover)
Paradise City
Vous pouvez d'ores et déjà retrouver dans la galerie dédiée au show les premières photos du concert de GN'R à Raleigh:
>
Galerie photos du concert de GN'R à Raleigh, NC
(29/09/2021)



Prochain concert du groupe à Hollywood en Floride (oui il existe aussi un Hollywood en Floride !) samedi.