Jeu. 12/10/2017 à 21:21
12/10/2017 21:21, rédigé par S2B
Les Guns ont joué dans la très célèbre salle du Madison Square Garden de new York City hier soir. Il s'agit d'une salle type bercy qui est notament le temple des Knicks (équipe de basket ball de NYC), et qui peut contenir 20 000 personnes. Le concert était sold out.
Toujours pas de première partie hier, le groupe est monté sur scène à 19h30 et a enchainé un gros concert de presque 3h20 !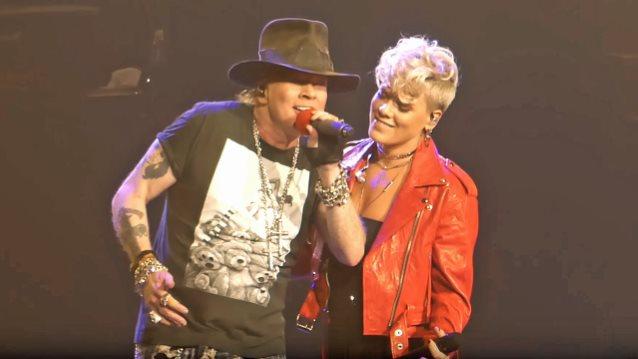 La chanteuse Pink!, grande fan des Guns est venu chanter l'outro de "Patience" avec le groupe.

Setlist du concert de Guns N' Roses à New York City (11/10/2017) :

It's So Easy
Mr. Brownstone
Chinese Democracy
Double Talkin' Jive
Estranged
Live And Let Die
Rocket Queen
You Could Be Mine
You Can't Put Your Arms Around A Memory (intro)
New Rose (Duff on vocals)
This I Love
Yesterdays
Coma
Slash guitar solo
Theme From The Godfather
Wichita Lineman (Glen Campbell)
Used To Love Her
My Michelle
Wish You Were Here (guitar solo)
Layla (band jam)
Black Hole Sun (Soundgarden)
Only Women Bleed
Nightrain
- Rappel -

Jam / Patience (w/ Pink!)
The Seeker
Paradise City



> Plus de photos du concert des Guns à NYC (1ere nuit)

Prochain concert ce soir dans le New Jersey avant d'enchainer à nouveau dimanche au Madison Square Garden !