Sam. 30/06/2018 à 00:17
30/06/2018 00:17, rédigé par S2B
Après le périple du groupe à Bordeaux (où l'on a pu voir notamment le guitariste Richard Fortus manger dans le resto de notre Philippe Etchebest national), Guns n' Roses se retrouva à jouer en tête d'affiche de l'édition espagnole du Download Festival qui s'est déroulée hier à Madrid.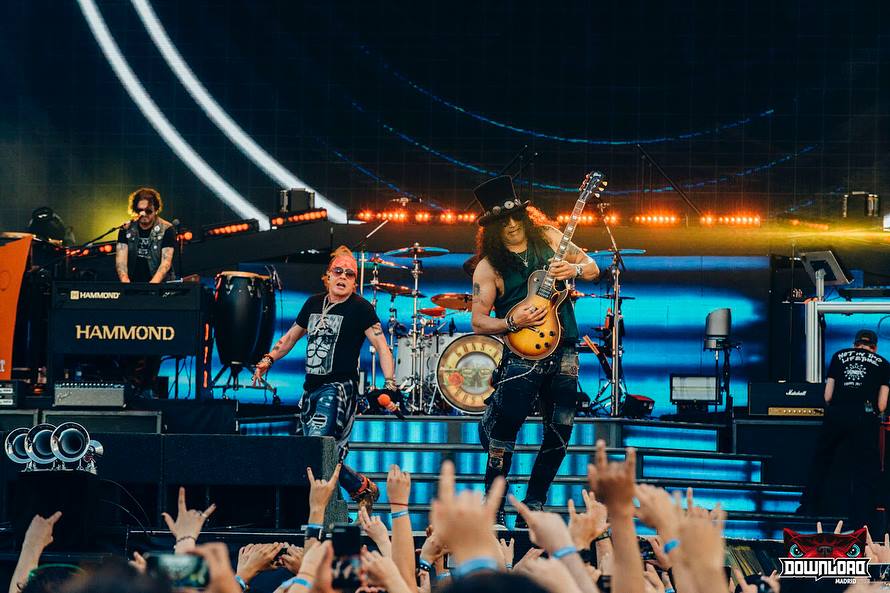 Le groupe est monté sur scène vers 21h.
Etrangement, sur le site du Download Spain, une forte odeur de merde (ah la joie des festivals !) a obligé certains techniciens à mettre des foulards sur leur visage! Malgré cela, le groupe a assuré son set de 3h20.

Setlist du concert de Guns N' Roses à Madrid, Espagne (29/06/2018) :

It's So Easy
Mr. Brownstone
Chinese Democracy
Double Talkin' Jive
Better
Estranged
Live And Let Die
Slither (Velvet Revolver)
Rocket Queen
Shadow Of Your Love
You Could Be Mine
You Can't Put Your Arms Around A Memory (intro)
New Rose (Duff on vocals)
This I Love
Civil War
Yesterdays
Coma
Slash guitar solo
Theme From The Godfather
Sweet Child O' Mine
Wichita Lineman (Glenn Campbell)
Used To Love Her
Wish You Were Here (guitar solo)
Layla (band jam)
November Rain
Black Hole Sun (Soundgarden)
Only Women Bleed (intro)
Knockin' On Heaven's Door
Nightrain
- Rappel -
Melissa (intro) / Patience
Don't Cry
The Seeker
Paradise City
>

Galerie photos du concert de GN'R à Madrid, Espagne (29/06/2018)

Prochain concert à Barcelone le 1er juillet !

Si vous n'avez pas encore pré-commandé votre édition préférée (ou plusieurs pour les collectionneurs !) du remaster d'Appetite For Destruction, n'hésitez pas à le faire ci-dessous !

Les différentes versions sont disponibles depuis hier. Il y en a pour tous les goûts (fans de CDs, de vinyles, d'éléments très rares, etc.) mais aussi pour toutes les bourses puisque cela va de 8 à 999 euros !

- Version CD remasterisée.
- Version 2CD remasterisée Deluxe.
- Version 2LP vinyl, artwork inédit, face 4 en hologramme + bon de téléchargement.
- Version Super Deluxe 4CD + 1 Blu-ray audio + livre photo de 96 pages + goodies.
- Version Locked N' Loaded (limitée à 10.000 exemplaires) 4CD + 1 Blu-ray audio + livre photo de 96 pages + 7LP vinyl + 7EP vinyl + clé USB 32 Go (avec audio des 4 CDs) + goodies.