Dim. 05/09/2021 à 20:07
05/09/2021 20:07, rédigé par GN'R France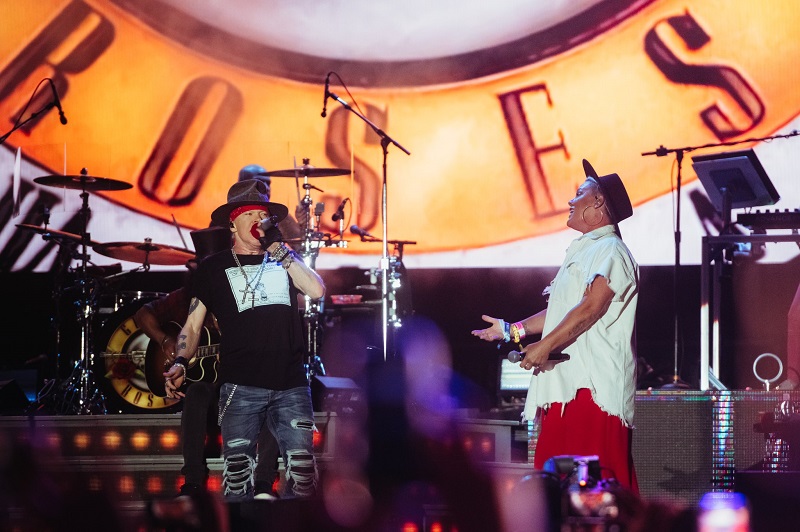 Guns N' Roses jouait hier soir (ce matin heure française) au Bottlerock Festival dans la Napa Valley en Californie, et les fans ont enfin eu droit à un peu de changement, avec un featuring de Pink sur Patience pendant le rappel et de Dave Grohl sur Paradise City ! A noter que le couvre-feu strict de 22h au festival a coupé le son pendant le dernier titre, ce qui n'a pas empêché le groupe de finir la chanson. Seul le son du festival était coupé mais pas via le son interne de la scène (dans les oreillettes des membres du groupe), donc les Gunners n'ont pas vu la différence, contrairement aux spectateurs.

L'affiche et la lithographie pour le concert étaient dédiées au vin puisque comme son nom l'indique le festival se déroule dans la Napa Valley (une vallée US connue pour ses vignobles notamment) et rend hommage aux flacons avec pas moins de 40 viticulteurs représentés dans le cadre du festival !

Setlist du concert de Guns N' Roses au Bottlerock Festival, Napa, CA (04/09/2021) :
It's So Easy
Mr. Brownstone
Chinese Democracy
Slither (Velvet Revolver)
Double Talkin' Jive
Rumble (Link Wray, intro)
Better
Estranged
Live And Let Die
You're Crazy (slow version)
Rocket Queen
You Could Be Mine
I Wanna Be Your Dog (The Stooges, Duff on vocals)
Absurd
Civil War (Machine Gun intro)
Slash guitar solo (Muddy Waters, blues jam)
Sweet Child O' Mine
November Rain
Wichita Lineman (Glen Campbell)
Knockin' On Heaven's Door (Only Women Bleed intro)
Nightrain
- Rappel -
Patience (feat. Pink)
Paradise City (feat. Dave Grohl)
Vous pouvez d'ores et déjà retrouver dans la galerie dédiée au show les premières photos du concert de GN'R au Bottlerock Festival de Napa
2021
:



>

Galerie photos du concert de GN'R au Bottlerock Festival de Napa, CA

(04/09/2021)



Prochain concert de la tournée du groupe à Indianapolis dans l'état natal d'Axl Rose (et Izzy Stradlin) mercredi soir, 8 septembre.