Dim. 28/08/2016 à 11:40
28/08/2016 11:40, rédigé par Will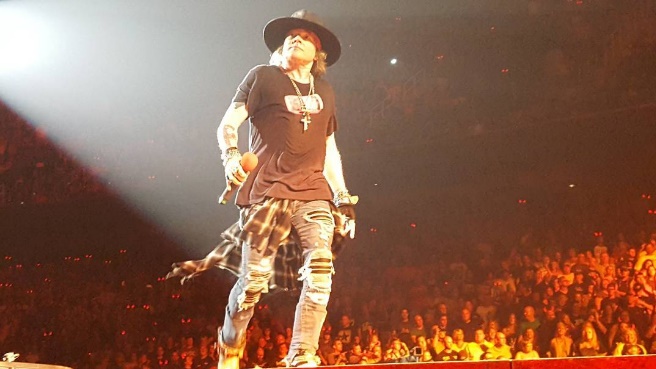 Axl Rose est de retour dans AC/DC pour la suite de leur tournée, aux Etats-Unis cette fois (le groupe avec Axl était en Europe au printemps 2016). Comme vous le savez sans-doute le chanteur d'AC/DC Brian Johnson a connu des problèmes d'audition et Axl a donc repris sa place après quelques auditions auprès d'Angus Young. Le groupe a donc repris sa tournée hier soir à Greensboro, une ville de 260.000 habitants (1,6 million dans la zone urbaine) sur la Côte Est. Pour le retour d'Axl, AC/DC a joué le titre "Live Wire" (pour la première fois depuis 1982), inédit en live avec Axl jusqu'ici.

Setlist du concert d'AC/DC avec Axl Rose à Greensboro, NC (27/08/2016) :

Shoot To Thrill
Hell Ain't A Bad Place To Be
Got Some Rock N' Roll Thunder
Dirty Deeds Done Dirt Cheap
Rock N' Roll Damnation
High Voltage
Rock N' Roll Train
Hells Bells
Given The Dog A Bone
If You Want Blood (You've Got It)
Live Wire
[Joué pour la première fois en live depuis 1982 !]
Sin City
You Shook Me All Night Long
Shot Down In Flames
Have A Drink On Me
TNT
Whole Lotta Rosie
Let There Be Rock
- Rappel -
Riff Raff
For Those About To Rock (We Salute You)
Les premières photos du concert de Greensboro sont déjà disponibles dans la galerie dédiée :

> Galerie photos du concert d'AC/DC avec Axl Rose à Greensboro (27/08/2016)


Nous pourrons retrouver Axl Rose en live avec AC/DC mardi 30 août à Fort Lauderdale en Floride.