Dim. 02/07/2017 à 09:03
02/07/2017 09:03, rédigé par S2B
Dernière date en Scandinavie pour le groupe hier à Helsinki.
Premières parties de choix avec The Darkness et Michael Monroe. Ce dernier, ami du groupe et particulièrement de Slash, n'est malheureusement pas monté sur scène en guest avec eux.
Encore un gros concert de plus de 3h avec une grosse setlist.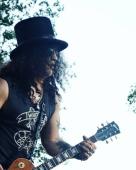 Setlist du concert des Guns à Helsinki (01/07/2017)
It's So Easy
Mr. Brownstone
Chinese Democracy
Welcome To The Jungle
Double Talkin' Jive
Better
Estranged
Live And Let Die
Rocket Queen
You Could Be Mine
You Can't Put Your Arms Around A Memory (intro)
New Rose (Duff on vocals)
This I Love
Civil War
Yesterdays
Coma
Slash guitar solo
Theme From The Godfather
Sweet Child O' Mine
Out Ta Get me
Wish You Were Here (guitar solo)
Layla (band jam)
November Rain
Black Hole Sun (Soundgarden)
Only Women Bleed (intro)
Knockin' On Heaven's Door
Nightrain
- Rappel -
Jam / Don't Cry
Whole Lotta Rosie
Patience
The Seeker (The Who)
Paradise City

> Plus de photos du concert de Guns n' Roses à Helsinki

Prochain concert du groupe à Prague ! Des membres du staff seront présents à ce concert.