Mer. 21/06/2017 à 03:11
21/06/2017 03:11, rédigé par S2B
Après Londres où Axl a fait la une des tabloid pour avoir picoller avec Tom Jones jusque 6h du mat' après le second concert londonien, le groupe s'est arrêter en Pologne à Gdansk.
Le concert n'était pas sold out mais le stade pouvant donctenir environ 43 000 personnes était déjà bien rempli.
Les premières parties étaient VIRGIN, groupe polonais mené par la chanteuse Doda; une gloire locale assez décriée par les rockeurs, et KILLING JOKE.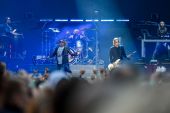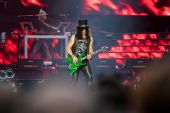 Setlist Guns n' Roses à Gdansk
It's So Easy
Mr. Brownstone
Chinese Democracy
Estranged
Live And Let Die
Rocket Queen
You Could Be Mine
You Can't Put Your Arms Around A Memory (intro)
Attitude (Duff on vocals)
This I Love
Civil War
Yesterdays
Coma
Slash guitar solo
Theme From The Godfather
My Michelle
Wish You Were Here (guitar solo)
Layla (band jam)
Only Women Bleed (intro à
Knockin' On Heaven's Door
Black Hole Sun (Soundgarden)
Nightrain
- Rappel -
Band jam
Patience
The Seeker
Paradise City

> Plus de photos du concert de Guns n' Roses à Gdansk

Prochain concert à Hanovre demain.