GNRFrance.net > Vidéos Guns N' Roses
PARTICIPATIONS - DVD FREDDIE MERCURY TRIBUTE, WEMBLEY 1992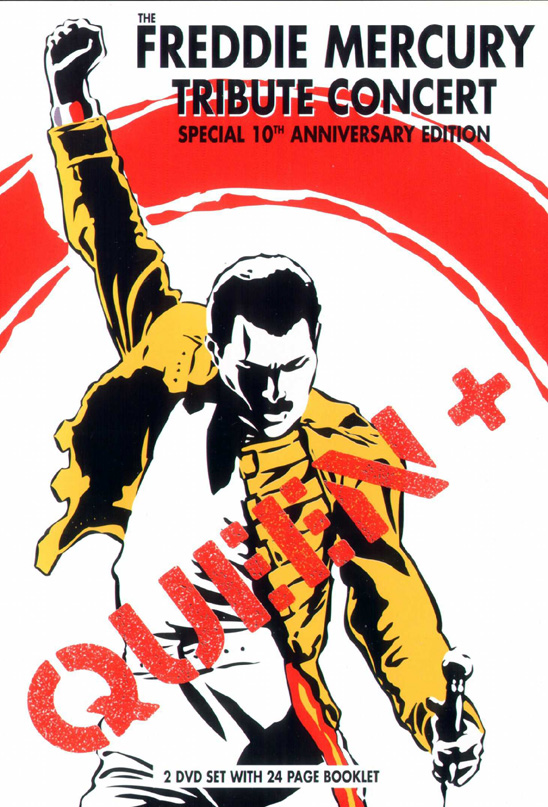 Setlist du DVD (Hommage à Freddie Mercury) :
Queen avec Joe Elliott et Slash - Tie Your Mother Down
Queen avec Roger Daltrey et Tony Iommi - Heaven and Hell (intro), Pinball Wizard (intro), I Want It All
Queen avec Zucchero - Las Palabras de Amor
Queen avec Gary Cherone - Hammer To Fall
Queen avec James Hetfield - Stone Cold Crazy
Queen avec Robert Plant - Innuendo, Thank You (intro), Crazy Little Thing Called Love
Brian May avec Spike Edney - Too Much Love Will Kill You
Queen avec Paul Young - Radio Ga Ga
Queen avec Seal - Who Wants To Live Forever
Queen avec Lisa Stansfield - I Want To Break Free
Queen avec David Bowie et Annie Lennox - Under Pressure
Queen avec Ian Hunter, David Bowie, Joe Elliott et Phil Collen - All The Young Dudes
Queen avec David Bowie et Mick Ronson - Heroes/The Lord's Prayer
Queen avec George Michael - '39
Queen avec George Michael et Lisa Stansfield - These Are The Days Of Our Lives
Queen avec George Michael - Somebody to Love
Queen avec Elton John et Axl Rose - Bohemian Rhapsody
Queen avec Elton John - The Show Must Go On
Queen avec Axl Rose - We Will Rock You
Queen avec Liza Minnelli et les autres invités - We Are The Champions
Format : PAL
Langue : Anglais
Région : Région 2
Aspect ratio : 1.77:1
Nombre de disques : 2
Studio : EMI
Date de sortie du DVD : 13/05/2002
Date de sortie VHS : 1992
Durée : 175 minutes
Notes :
Le Freddie Mercury Tribute a été l'évènement rock de 1992, retransmis sur toute la planète via satellite. Accusé à l'époque d'homophobie, Axl Rose avait fait un pied-de-nez aux journalistes en chantant un duo avec Elton John sur Bohemian Rapsody.

La sortie DVD du concert datant de 2002 ne comprend que la partie "hommage", et non la première partie avec des performances de différents groupes dont Guns N' Roses.

Cette première partie du show n'est disponible qu'en VHS et LD. Elle comprenait des performances de groupes comme Metallica, Def Leppard, Extreme et donc Guns N' Roses. Le groupe irlandais U2, en tournée au moment du concert, avait joué en duplex la chanson Until The End of the World. GN'R a joué de son côté Paradise City, Only Women Bleed (intro) et Knockin' On Heaven's Door.