GNRFrance.net > Concerts en France
AMNEVILLE 2010
Guns n' Roses
Galaxie
Amneville, France
10/09/2010

Première partie : Murderdolls

Chinese Democracy
Welcome To The Jungle
It's so Easy
Mr. Brownstone
Sorry
Richard solo
Live and Let Die
This I Love
(Axl dit qu'il s'est un peu planté au début de this i love car il s'est rendu compte que c'était la seule chanson qu'il avait écrite en France)
Rocket Queen
Shackler's Revenge
Band introductions
Dizzy solo
Street of Dreams
You Could Be Mine
D.J. Ashba solo
Sweet Child O' Mine
Band jam (Another Brick in the Wall)
Axl piano solo
November Rain
(Axl remercie le public en français dans le texte)
Ron solo
Knockin' On Heaven's Door
Better
Nightrain
- Rappel -
Madagascar
Whole Lotta Rosie
Band jam
Paradise City

C'est la première fois que les Guns font une tournée en France depuis 1993 !
Le groupe tourne pour la première fois en Europe avec le nouveau guitariste Dj Ashba.
> En savoir plus :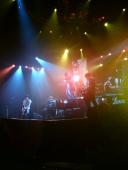 Line Up
W. Axl Rose - chant
Dj Ashba - guitare
Richard Fortus - guitare
Ron 'Bumblefoot' Thal - guitare
Tommy Stinson - Basse
Frank Ferrer - batterie
Dizzy Reed - claviers
Chris Pittman - claviers, synthés, effets

> Photos du concert

Prix des billets:
- Cat 1: (gradins) 69,70 €
- Cat 2: (fosse) 59.80 €
- Cat 3: (gradins fond) 49,90€




> Autres pages :