Sam. 06/01/2018 à 11:20
06/01/2018 11:20, rédigé par GN'R France
Très bonne année 2018 de la part de l'équipe GNR FRANCE !
Une année qui s'annonce "grandiose" d'après le manager du groupe.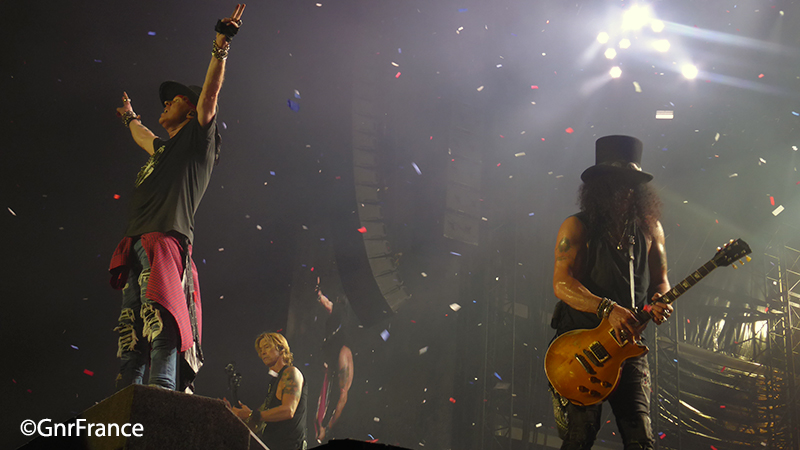 Alors que les membres des Guns prennent du repos bien mérité, Billboard publie quelques chiffres concernant la tournée "Not In This Lifetime" qui a débuté en Avril 2016.
En effet, il s'agit de la 4ème plus grosse tournée de tous les temps en termes de vente de billets avec un total de $475 millions cumulés jusqu'à la dernière date du 29 Novembre 2017.
La tournée se poursuivra l'été 2018 en Europe avec notamment 2 dates en France (Download Festival Paris et Bordeaux).

Les 3 premiers du classement sont les suivants:
- U2 "360°" stadium tour (2009-2011): $759 millions
- THE ROLLING STONES

'

"A Bigger Bang" (2005-2007) : $558 millions
- COLDPLAY "A Head Full Of Dreams" (2016-2017): $523 millions

On peut clairement donc dire que dans la catégorie HARD ROCK, les Guns sont premier.

Autre chiffre, le greatest hits des Guns vient de dépasser les 6 millions de vente aux USA. L'album était sorti en mars 2004. Il est entré dans le top 200 album de Billboard en Avril 2004 et est resté 425 semaines depuis.
Depuis le 28 décembre 2017, il s'est vendu encore 4000 copies aux US.