Sam. 04/11/2017 à 14:07
04/11/2017 14:07, rédigé par Will
Hier soir (ce matin heure française), Guns N' Roses jouait à Louisville dans le Kentucky, dans le "KFC Yum Center", une salle qui est donc sponsorisée par la chaine de fast-food KFC. Axl Rose a d'ailleurs plaisanté à ce sujet pendant le concert. Plus de 20.000 fans étaient présents pour un des plus longs shows de la tournée, avec pas moins de 30 titres (sans compter les jams), dont de nombreuses chansons issues de l'album Chinese Democracy, avec notamment Catcher In The Rye en rappel et Prostitute qui est déjà bien installée dans la setlist.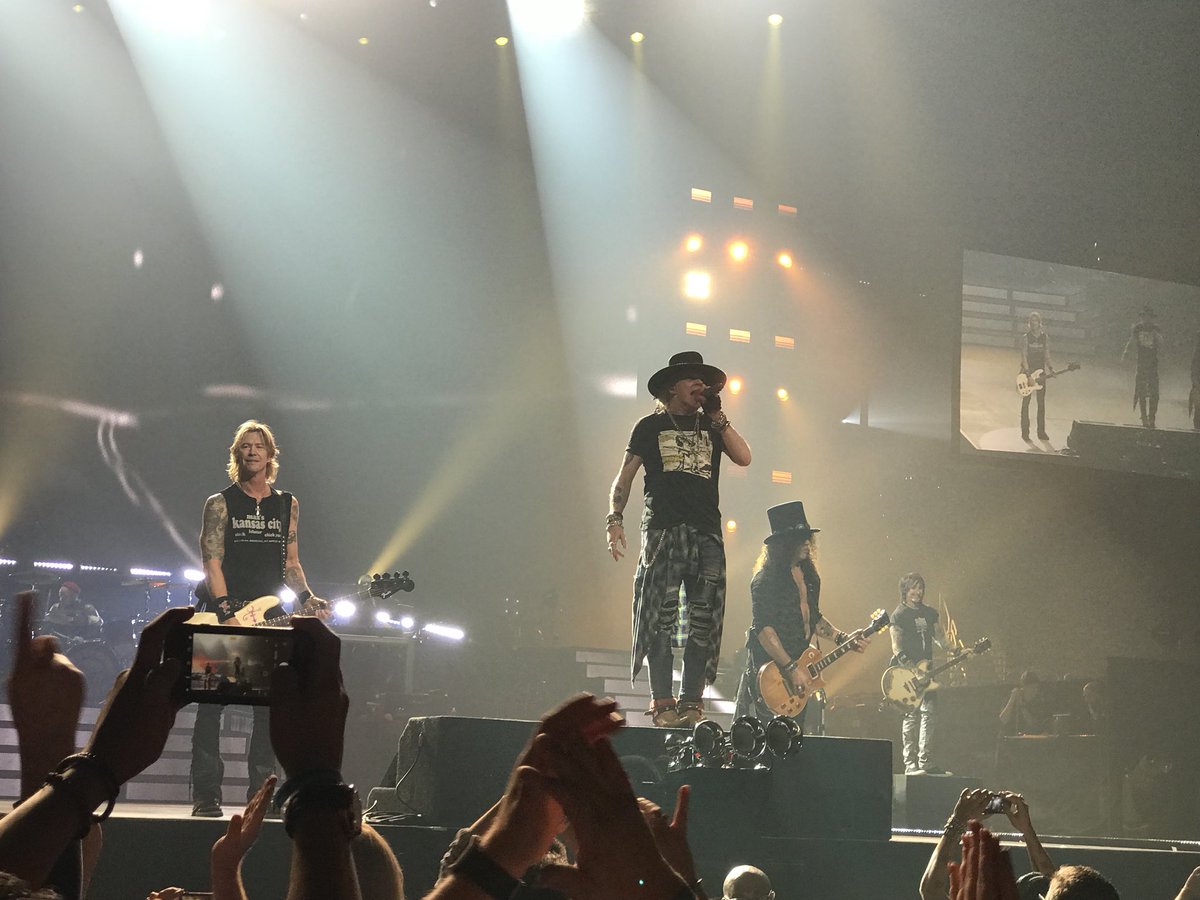 Setlist du concert de Guns N' Roses à Louisville, USA (03/11/2017) :
It's So Easy
Mr. Brownstone
Chinese Democracy
Welcome To The Jungle
Double Talkin' Jive
Better
Estranged
Live And Let Die
Rocket Queen
You Could Be Mine
You Can't Put Your Arms Around A Memory (intro)
Attitude (Duff on vocals)
This I Love
Prostitute
Civil War
Yesterdays
Sweet Child O' Mine
Wichita Lineman (Glen Campbell)
Used To Love Her
My Michelle
Wish You Were Here (guitar solo)
Layla (band jam)
Black Hole Sun (Soundgarden)
Only Women Bleed
Knockin' On Heaven's Door
Nightrain
- Rappel -

Catcher In The Rye
Don't Cry
The Seeker (The Who)
Madagascar
Paradise City
Vous pouvez d'ores et déjà retrouver ci-dessous les premières photos du concert de GN'R à Louisville :

> Galerie photos du concert de GN'R à Louisville, Kentucky (03/11/2017)

Le prochain show de la tournée aura lieu lundi 6 novembre à Chicago dans l'Illinois.