Jeu. 13/07/2017 à 08:20
13/07/2017 08:20, rédigé par S2B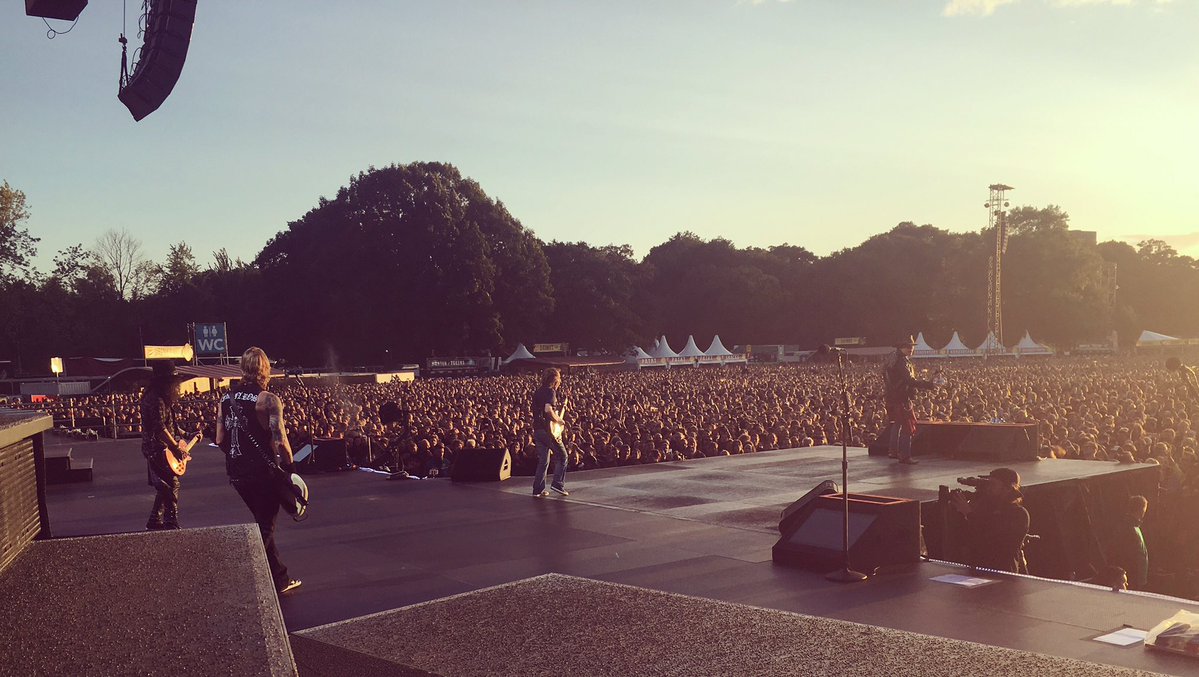 La fin de la tournée approche mais Guns n' Roses ne s'économise pas !
Le groupe a ravi les fans hier en donnant son plus long concert sur cette tournée jusque là: 3h22 dixit Slash (nous, nous avons compté 3H20 !).
En plus d'un concert ultra long, Angus Young est venu jouer "Whole Lotta Rosie" et "Riff Raff".
Ajouter à cela des performances de haut vol: un Slash guitaristiquement monstrueux (la version de November Rain hallucinante !), un Axl souriant de bout en bout tout comme Duff...Bref, nous y étions et pouvons clairement dire sans retenu que c'était la meilleure performance que le groupe ait donné sur cette tournée.


La pluie continue tombée dans la journée sur Nijmegen n'a pas eu raison de la bonne humeur du groupe.
Setlist ci-dessous avec My Michelle au rappel !

Setlist du concert de Guns n' Roses à Nijmegen (12/07/2017).

It's So Easy
Mr. Brownstone
Chinese Democracy
Double Talkin' Jive
Better
Estranged
Live And Let Die
Rocket Queen
You Could Be Mine
You Can't Put Your Arms Around A Memory (intro)
New Rose (Duff on vocals)
This I Love
Civil War
Whole Lotta Rosie (AC/DC) feat. Angus Young
Riff Raff (AC/DC) feat. Angus Young
Used To Love Her
Out Ta Get Me
Wish You Were Here (guitar solo)
Layla (band jam)
November Rain
Black Hole Sun (Soundgarden)
Only Women Bleed
Knockin' On Heaven's Door
Nightrain
- Rappel -
Sorry
Band jam
Patience
My Michelle
The Seeker (The Who)
Paradise City

> Plus de photos du concert de Guns n' Roses à Nijmegen

Prochain concert dans 2 jours à Tel Aviv.